"There's no better holiday than the Fourth of July to declare your independence from fussy, complicated entertaining," according to Jane Birdwell, creator of Make-It-Yours (MIY) and founder of Tablevogue — fitted covers for folding tables that turn any party into a fashionable affair.
As we all reevaluate our lives and priorities post-pandemic, the way we entertain at home is also being rethought this summer. "We crave simplicity and beauty, and these three MIY entertaining hacks can make each event we host easy, breezy, and stylish" according to Jane:
Share the Love
There is definitely a return to the ease of traditional pot-luck events. For your summer entertaining, embrace the freedom that comes with enlisting help from talented family and friends. When you do, not only will you be able to invite your whole crew, you can even invite new guests for more fun, more connections, and more memories:
Share the burden by creating a host group so you can plan together. From location to timing to activities, collaborating makes everything easier.
For the big summer moments, a block party can bring the neighborhood together. Making sure that everyone is invited is key, since some might not be technically wired, flyers can be a creative way to get the message out.
Think about when the fireworks usually start near you so you can work them into the schedule. There's nothing like the big bang to cap off a great evening.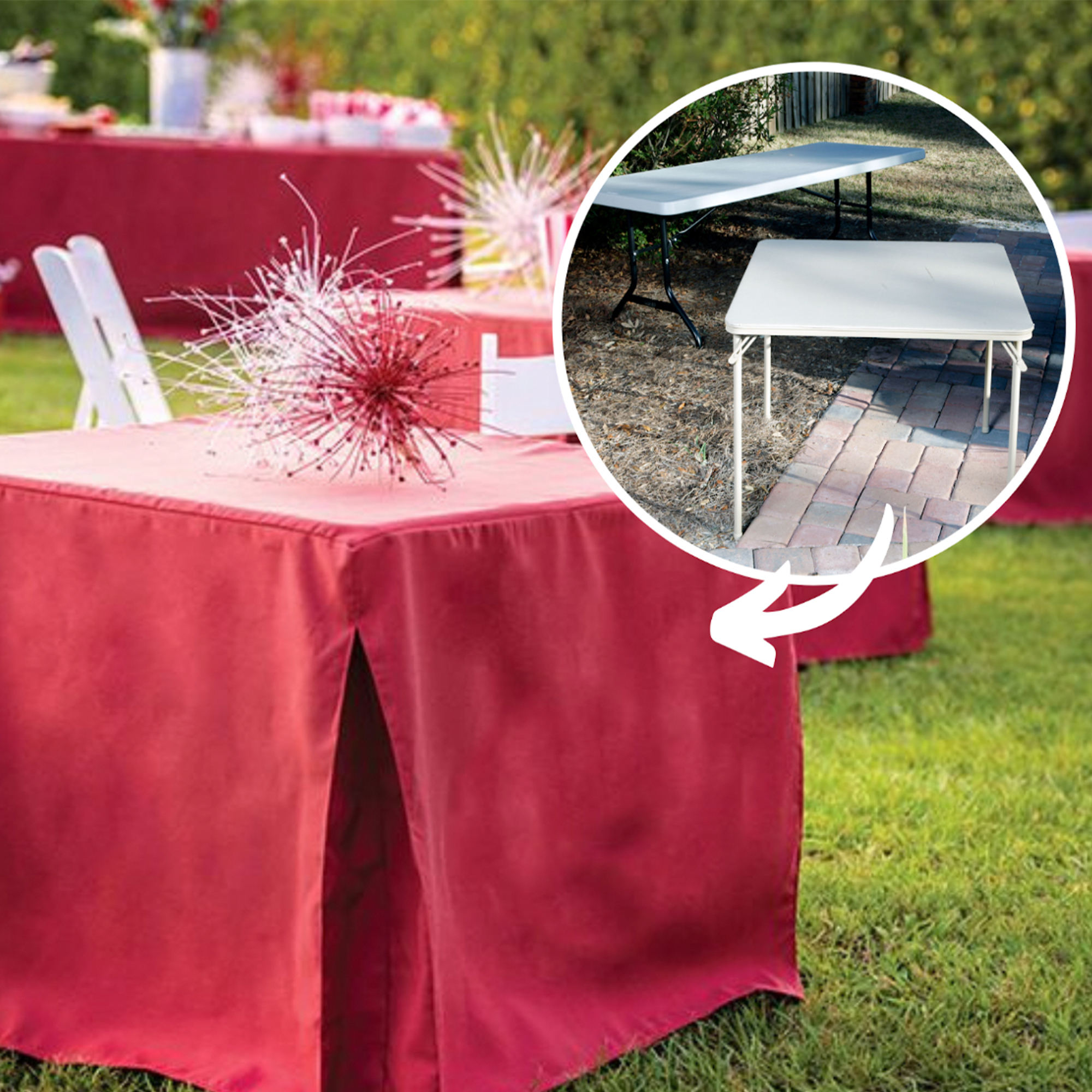 Don't Worry, Be Healthy
Planning your pot-luck menu is key. True, hamburgers and hotdogs are staples but since almost everyone is trying to eat better and drink less, work that into your planning as well, along with foods that won't spoil in outdoors temps over several hours. To begin:
Think about some dishes that are healthy alternatives (think also about those you know with dietary restrictions like dairy and gluten), and plan for nonalcoholic beverage options as well.
Gather ideas for all the right appetizers, protein-based entrees, and sides, then connect them to the guest list.
Include a request to bring a favorite specialty dish along with the invite … you'll not only be sharing the burden but you'll be reducing your expense!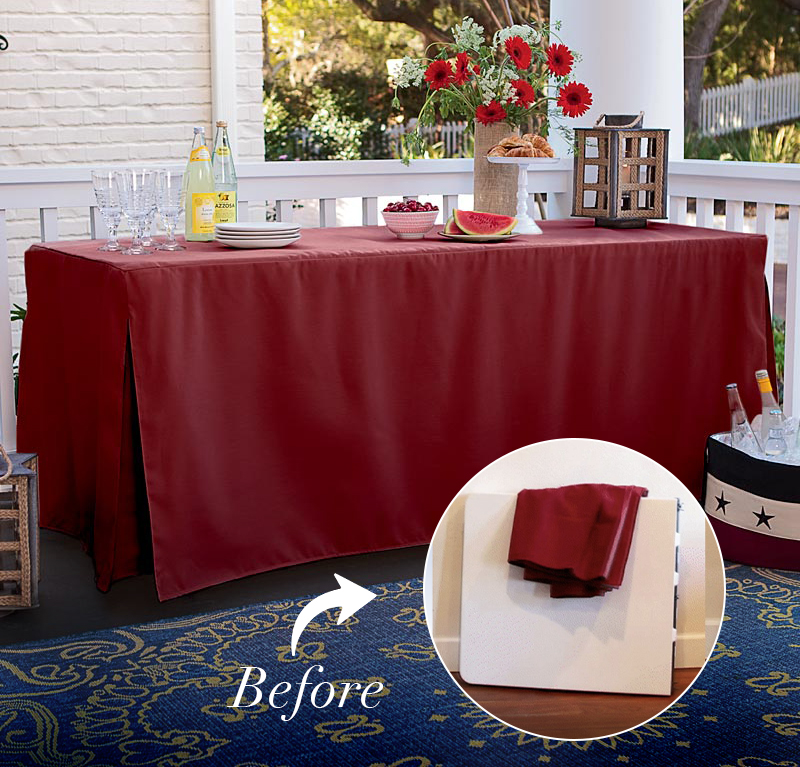 Think MIY — Instead of DIY
If it still sounds a little daunting, don't worry—you don't need to start from scratch and go it alone with the décor either. Let's face it, we're all too exhausted by everyday life to tackle overwhelming DIY projects from scratch. DIY if you like but with the great designs and products available today, no one needs to make something from scratch to enhance their backyard party.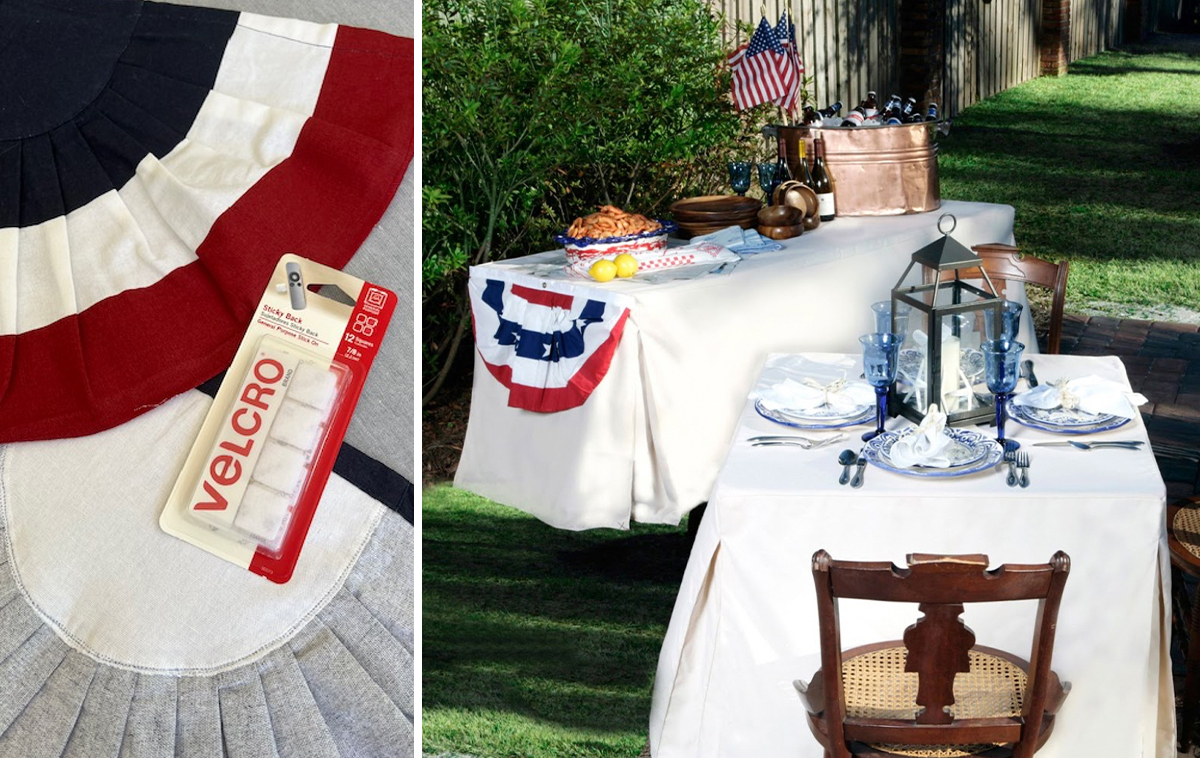 The new rule is that there are no rules, so create the atmosphere any way you want. How? Personalize and customize an affordable store-bought item and Make-It-Yours:
Try this simple no-sew hack using Velcro to attach patriotic bunting or pennants on your Tablevogue fitted covers in any patriotic color or print for instant "wow."
Use decorative containers and tuck in miniature American Flags for easy centerpieces; use baskets versus ceramic for serving and for carving out different spaces.
Make beverage packaging and serving pieces part of the décor.

ABOUT JANE BIRDWELL
Jane Birdwell is the Creator of MIY—Make-It-Yours—and the Founder/CEO of Tablevogue. She loves nothing more than the joy of a great event, from the twinkling lights to the clink of a glass. And she's equally joyous when MIY's entertaining hacks—and Tablevogue's fitted and fashionable folding table covers—let thousands just like you create the big, bodacious bash of your dreams.